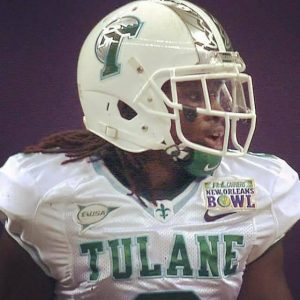 Presentiamo il DB che vestirà i colori Giants per la stagione 2018. Si tratta di Darion Monroe, 180 cm per 93 kg proveniente dalla Div 1A statunitense (universita di Tulane). Welcome Darion!
Abbiamo chiesto a Darion di presentarsi:
1. Hi Darion, please introduce yourself to our Giants family.
Dm: Hi I️ am Darion Anthony Monroe I️ am 23 years of age making 24 December 12th I️ am the oldest of 7 children.
2. What's your previous football experience?
DM: My previous football experience was in the NFL with the New Orleans Saints I️ went to rookie camp with them other than that I️ was a 4 year starter at Tulane university where I️ received my bachelors degree in Business Management.
3. What did you bring to Italy?
DM: Whats intriguing about playing in Italy is the experience to live a different culture and see the world while also playing the game I️ love while also giving knowledge to individuals that may not know as much about the American game than I️ do.
4. What do you expect from the upcoming season?
DM: This upcoming season I️ expect for us to compete at a high level every week and compete for a championship at the end of the season.