Per motivi personali Darion Monroe non farà parte della Giants family per la stagione 2018 ormai alle porte. Per tale motivo facciamo un grande in bocca al lupo a Darion e diamo invece il benvenuto a Dejvion Steward.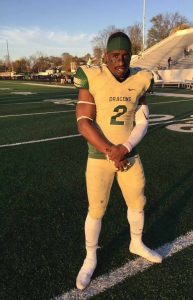 Dejvion è un forte atleta, che ha studiato alla Tiffin University in Ohio ed è stato premiato la scorsa stagione come una delle migliori safety della Great Lakes Intercollegiate Athletic Conference (GLIAC). Ha raggiunto i suoi compagni ormai da una settimana e l'abbiamo intervistato per voi per sapere come si trova.
1. Welcome "home" Dejvion. Please introduce yourself to our Giants family.
DS. Waddup doe my name is Dejvion Steward, born and raised in Detroit, Mi. "Waddup doe" is Detroit's way of saying hello. I attended Tiffin University in Tiffin Ohio where i played collegiate ball. I've been playing American football since i was 9.
2. What kind of player are you?
DS. I would say I'm a very physical player. Qb of the defense. I like to fly around and have fun playing the game i love.
3. First time in Italy?
DS. Yes this is my first time in Italy.
4 Why did you decide to come to Europe to play football?
DS. I chose to come to Italy because it's a new experience. From where I'm from not to many guys get the opportunity to travel the world like this. So it was a blessing I couldn't turn away when the offer came to come play here.
5. You have been here since a week already: what's your first impression?
DS. My first impressions of Bolzano are real good. I love how the people are so open into helping me. With me being new to the culture here a lot of the people here are really friendly and helpful. I also love the mountains, it's a beautiful site to see in the morning. As far as the team, I see a lot of talent. I have big expectations for the season.